Step 21: Launching
Before I get to "The Launching," here are some more pictures of the finished kayak: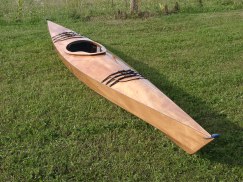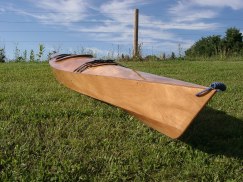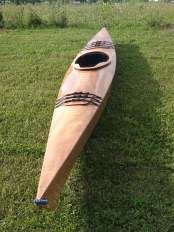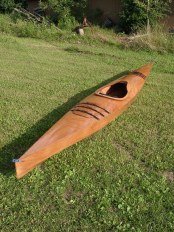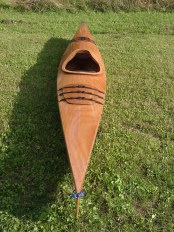 The day after I finished, I put it on top of the car and drove to Cape Cod where my family will use it mainly in Barnstable Harbor. We made sure to take some pictures to commemorate the launching:
The kayak: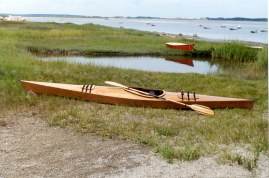 The proud builder: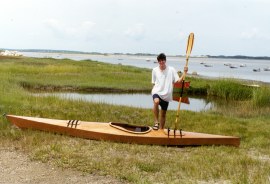 Me and my parents: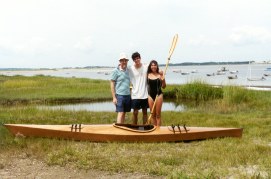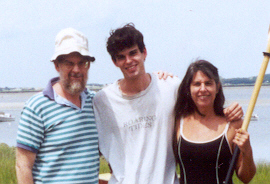 The launching: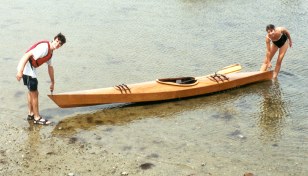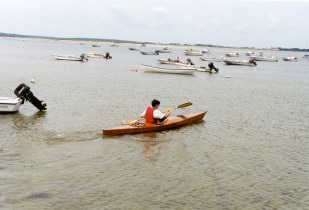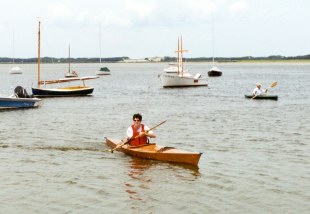 Well, the final verdict was that it turned out to be a wonderful boat. My hat's off to CLC for a great design because as far as I could tell it performs as beautifully as it looks (not to mention the fact that it didn't sink when I put it in the water). My Dad gave it high marks calling it "slick as a whistle" and "a real honey." Thankfully, he doesn't talk like that very often so he must have been particularly excited about the boat. He is thinking seriously of building a sister ship to this one next spring and I certainly hope he does. All in all it was a great experience and we now have a fabulous kayak.
UPDATE: December 2001: Well, it's been a while now since I built the kayak and it is still performing just as well as it did on its maiden voyage. We have been using it mostly just for day trips around Barnstable Harbor, Cape Cod. It is fast, surprisingly maneuverable, and tracks very straight. As for maintenance, we just have to lightly sand it and give it one coat of varnish each spring. As for my Dad's sister ship, he has already bought it and plans on building it this spring in our garage.
UPDATE: September 2002: My Dad is slowly but surely working on "Harpswell," a Chesapeake 16 LT (slightly smaller and lower volume than the 16) which should fit my Mom perfectly. At last report, he had fiberglassed the inside and was preparing to put on the deck. Hopefully, I'll have a picture of the two boats together by next summer but we'll just have to wait and see.
total page-views for the whole site.