Step 1: Choosing and Ordering
After deciding I wanted to build a wooden sea kayak (who doesn't?) the question became "which one?"
There are a ton of choices but it is not as complicated as it may at first seem. The first choice is the type of building process. The two major choices are "strip-built" or "stitch and glue." The strip-built kayaks are made of cedar strips about an inch wide and the result is very beautiful. It also looks very very difficult. So I decided for my first kayak to go with a stitch and glue design. Basically long sheets of marine quality plywood are first "stitched" together with copper wire (think sewing) and then glued in that position with epoxy. The hardest part is making the pieces the right shape which, if you buy a kit, they will do for you.
After deciding to go with a kit the question was
"which company?"
There are two main ones that my parents (for whom I am making this kayak) and I considered:
Pygmy Boats
and
Chesapeake Light Craft (CLC)
.
CLC claimed to be the biggest and most well established in the kayak kit market. What really sold us was visiting their showroom in Annapolis, MD and chatting with the nice people there. Their designs seem really good, with lots of selection and the finished products seemed very high quality.
Based on talking to them and the handy chart in their catalog...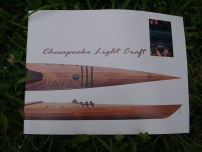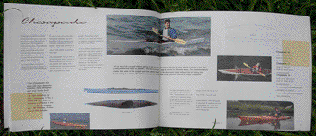 The Chesapeake 16 was selected from about 10 or so ready-to-make kits that CLC will sell you. The kit costs about around $650 but it comes out to around $750 when you throw in a foot pedals and shipping. Not bad considering the finished kayaks can sell for around $2000.
total page-views for the whole site since July 17, 2000.